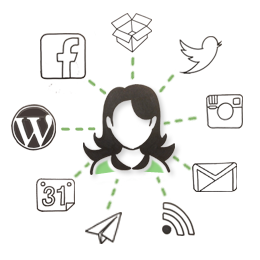 Distribute Content
Make The World See Your Content
Creating quality content is essential for your marketing plan, but what about the distribution?.
If you have taken into account the diversity of platforms where people are related to your content, you may be looking for a way to save time by automating publication on them and why not, invest the time saved by others aspects that help you maximize results.
There are as many ways to distribute a message as there are platforms, so understanding the needs and habits of users in each of them will help you tailor your content to each social network, to each service on the Internet. p >
With Botize you can distribute both content (accessible from an RSS feed, WordPress, stored in Dropbox, S3, Google Spreadsheet, ...) or distribute the content from one platform or social network to others (from Twitter to Telegram, from YouTube to a Facebook page, ...)
If you do not find the platform you are looking for in Botize, you can ask us to integrate it or, if you have programming knowledge, you can use our integration with Selenium to connect your content with any platform, such as WhatsApp, Intranets, web applications for private use etc).
Below we share some of the automation for the dissemination and promotion of content on the most common platforms.